Why did we go?
This year Zephyr decided to attend the Düsseldforf Boat Show – it's said to be the world's largest and greatest Boat and Watersports Show, we wanted to see for ourselves if it was worthy of its reputation…
It was a great opportunity to catch up with some of our current clients in the active health and wellness arena like the lovely team at TheKiteMag and also a great opportunity to make some new contacts and friends in the industry.

What was it like?
The show had 19 halls in total which housed everything a water lover could ever dream of from racing yachts and wave pools, the latest kitesurfing, stand up paddle boarding and windsurfing equipment to 400hp outboard engines. You can imagine the sheer scale of the event when there is one hall full to the brim of 'just' superyachts… Over 3 days at the show we managed to walk a whopping 37.8 miles and burn off 6036 calories!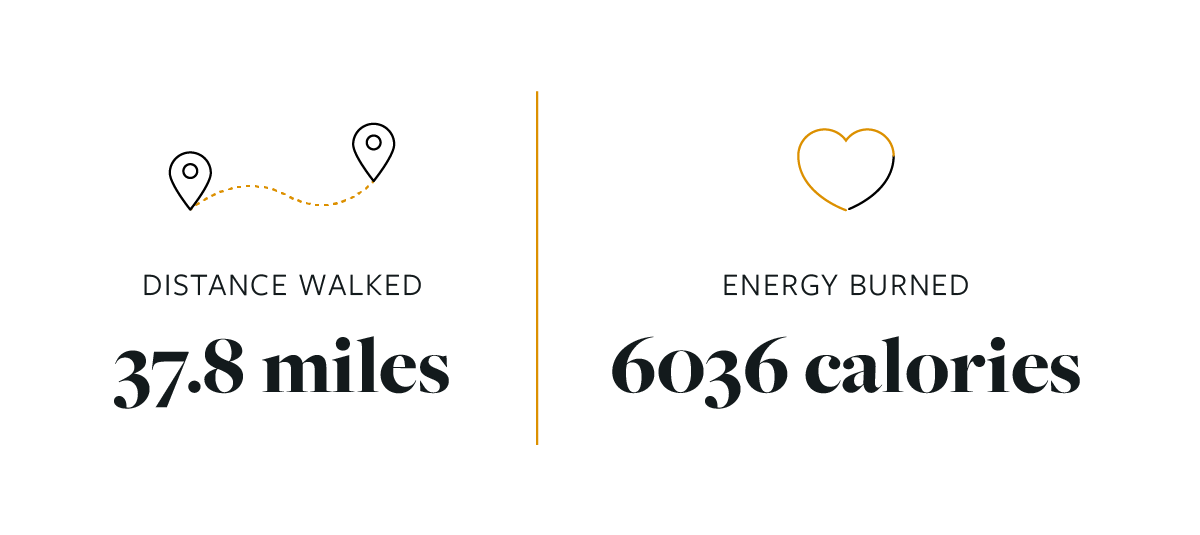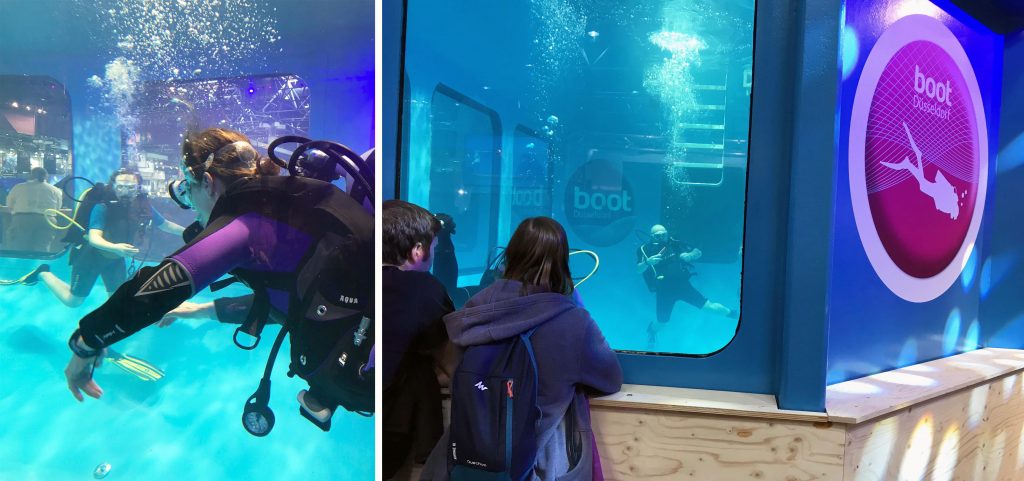 Who did we meet – what were they doing?
We met some really interesting people, to name a few – Thomas Richter, MD of Grand Tour Sports; stand up paddle board specialists – he's a man with some exciting ideas up his sleeve (we could tell you but we'd have to kill you). Sofia Pereira from Feelviana a dream concept of luxurious active health and wellness hotels – offering the ideal getaway in Portugal for watersports and active health enthusiasts – imagine rocking up to the beach and being asked "Madam, what would you like to play with today?" with everything rigged and ready to go with secured partnerships with top watersports brands Neilpryde, JP, and Cabrinha – you know you're guaranteed a good day on the water. The most 'Enthusiastic Person' award will definitely have to go to Michiel Geerling from RS Sailing, now there's a man who is truly passionate about his product – why wouldn't you be when you manufacture arguably the most superior small-sailboats on the market, in the world?!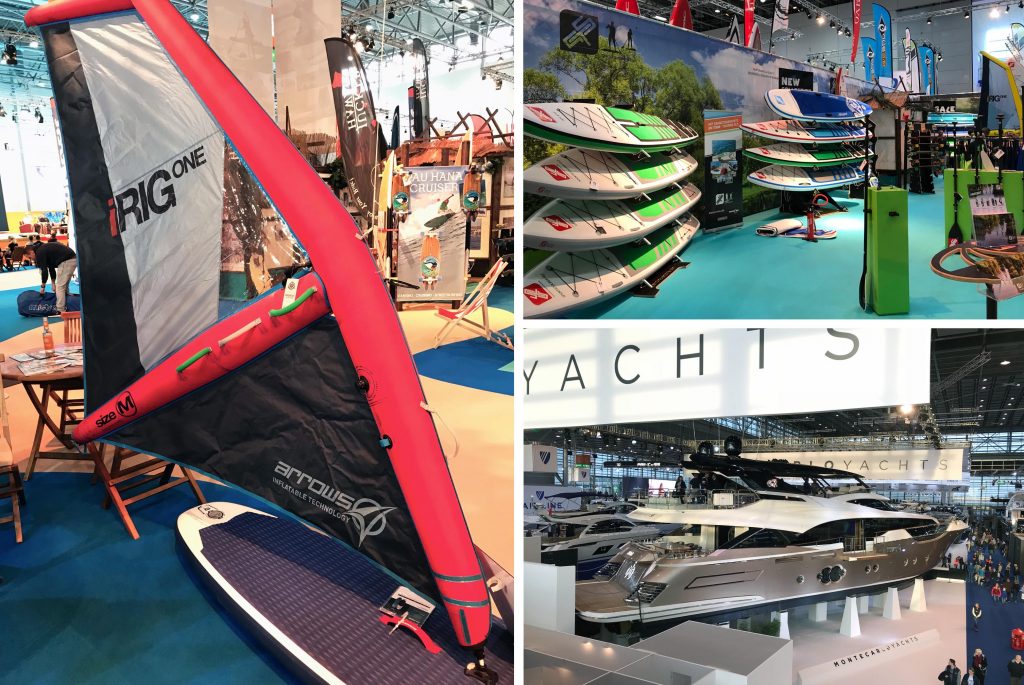 The most innovative idea?
One company who really grabbed our attention was the Peter Diving System, they have produced a ground-breaking system that enables multi-user diving, supplying air from the surface. This product makes diving accessible to everyone, giving disabled people and young children the opportunity to experience underwater life and the freedom to move without having to wear any diving equipment AT ALL. Genius. It's also a really useful product for easy access to boat maintenance, you should check it out for yourselves.
Arrows have also come up with a fantastic idea the iRIG ONE– inflatable windsurf sails. Great for kids learning to windsurf and for attaching to your SUP – picture it, you've paddled down the coast, the wind picks up, pump up your inflatable sail you have in your drybag and sail your way back home – Tadah!
Closer to home – we bumped into the friendly bunch from Fourth Element it was great to see that they are at the forefront of their industry, tackling global issues by utilising un-recyclables – ghost nets to be precise to create new and innovative dive clothing. Ocean Positive was the most innovative concept we came across throughout the whole show.
Best bits?
Tow windsurfing – having tow surfed in the past we were pretty keen to see how (in a 100m pool) tow windsurfing would work – turns out pretty good. The guys were pulling off double flakas and still making it look easy!
Worst bits?
40 Euros to connect to wifi for the day in an exhibition hall?! Bonkers. There were so many things (imagine a kid in a sweet shop) that you just wanted to take pictures of and Tweet about, pop it up on Instagram or stream on Facebook Live… however, there was no wifi. The Boat Show themselves had their own social handles and hashtags, we are certain if the Messe offered free wifi the awareness about the show itself and the coverage for brands exhibiting there would be far greater.
Would we go back?
Whether the companies that exhibit at the Boatshow are aware or not – they have a massive impact on wellness and health (on a global scale!) through increased activity. Not only do we believe in what they do, we are their customers too – as a team our personal lives revolve around being active, be it through kitesurfing, sailing, windsurfing, yoga, or hiking. For those reasons – we'll be back next year.